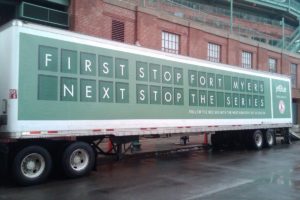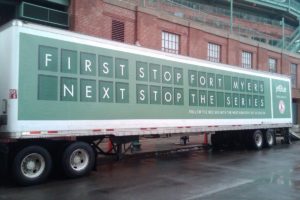 It is a tradition that has been quietly happening for years, but thanks to some opportunistic marketing folks is steadily turning into a hot stove event that could actually transcend baseball and into other sports. It is "Truck Day," the day when MLB clubs in cold weather cities literally load up their 18 wheelers with team equipment for the long drive south or west for the start of spring training. Really energized by the folks in and around clubs like the Red Sox, A's, Tigers and the Phillies, the day is quickly becoming another offseason call to action for baseball to remind fans of the good times ahead.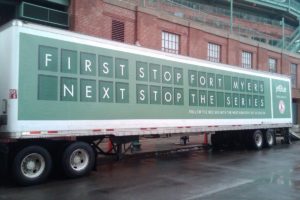 From mascots in Seattle and Baltimore helping send off the truck, to players in cities like Arlington turning out for a little more media push "Truck Day" is now the mod winter marketing opportunity that enhances the Fan Fests that have already happened, and effectively creates a moment in time to storytell about baseball where there was not one before . At Fenway Park it has become more of a fan event, with the truck adorned outside in baseball markings and even Jet Blue signing on as a sponsor on the truck, to compliment the amazing work they are doing around the Red Sox spring training facility. It's all really nice, but the potential for "Truck Day" becoming a bigger call to action event is even more intriguing.
The large volume of social media can give the fans the ability to track the truck, complete with photos and some surprise visits as it makes its way south or west. Video can capture the entire trip for a travel log, and maybe an enterprising intern with a mascot head goes along for the ride with some additional splash. While many moves are on weekdays right now, having select fans turn out via a contest on a Saturday or Sunday pre-trip to help load the truck, even ceremonially, could make for news and buzz, and there are probably legions of truckers who would love some small involvement in the trip. How about guessing what's in the truck for fans, or fans on the other end helping welcome and unload the truck with a message back home. You could even name the truck, and make the truck into a season-long promotional tool, or even another sponsorable giveaway. The list is endless, and is not really confined to just Major League Baseball.
Although many NFL teams are not traveling away for training camp these days, those who do can also make "Truck Day" a tradition, as can some NHL and NBA teams. The guess is that MLS probably also does the same, since many of their training camps are in warm weather cities this time of year. Regardless whether the load is a full series of semi's or even a small van, the idea of loading and packing and unpacking is a necessity and something which any fan can relate to. It also has great wheels for sponsors, and can even be tied into charity programs…maybe with some kids helping select some items. Social and digital media make it promotable and scalable and cost efficient, with maybe even a national sponsor sitting out there to grab hold. It appeals to kids, collectors and traditional fans, and with some bells and whistles can pull in a casual audience as well. Once again what is a necessity can now become a revenue and media opportunity.
Are there some issues with liability? Maybe but they can be overcome. Is it a mega-promotion that every team may want to or need to do? No. But for an economy of scale, it seems like "Truck Day" is an easy one that can keep growing, another little slice of promotion that a smart marketer grabbed on to in Beantown and other places, and should continue to grow for years to come. Pitchers and catchers await.
By https://ift.tt/36IIhV0
via Sports Marketing & PR Roundup http://joefavorito.com
January 10, 2020 at 06:18PM