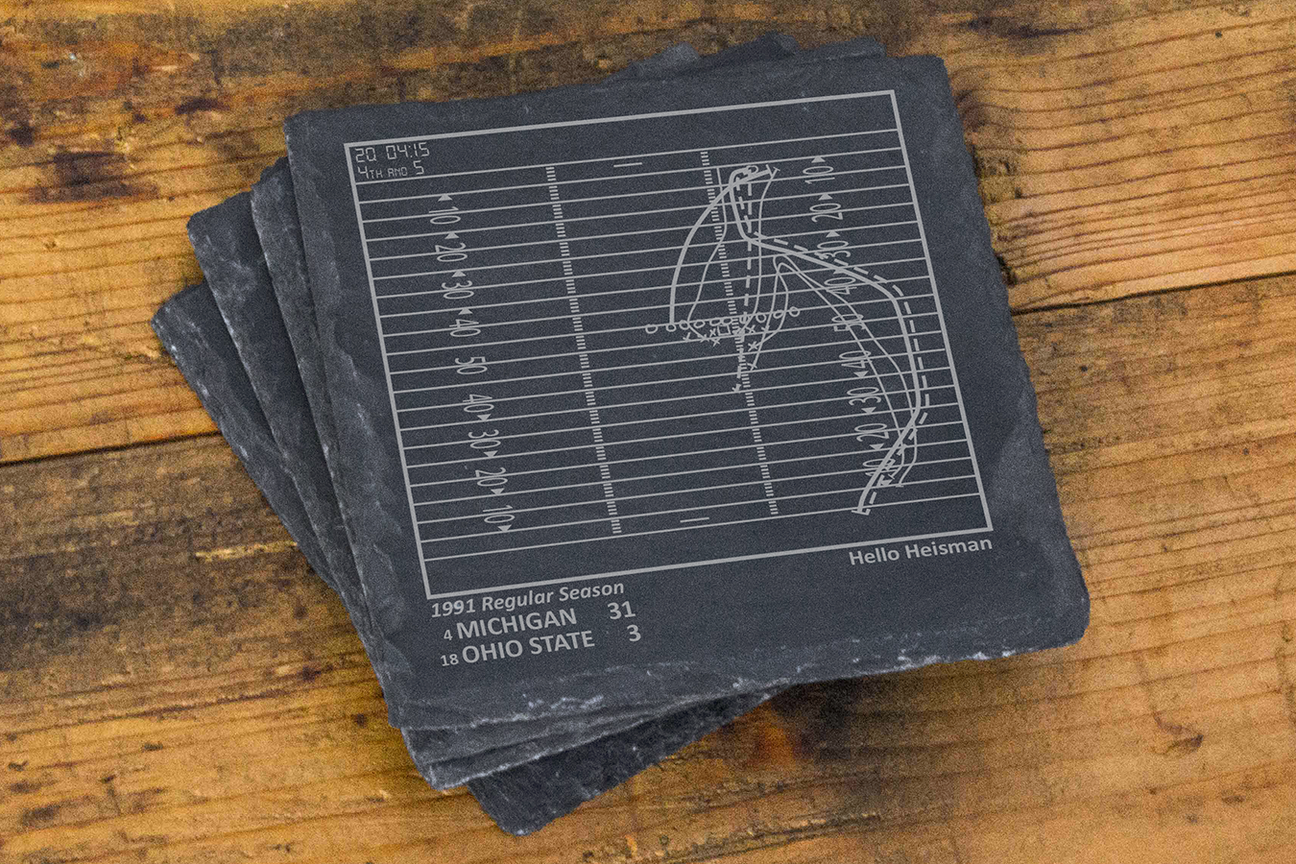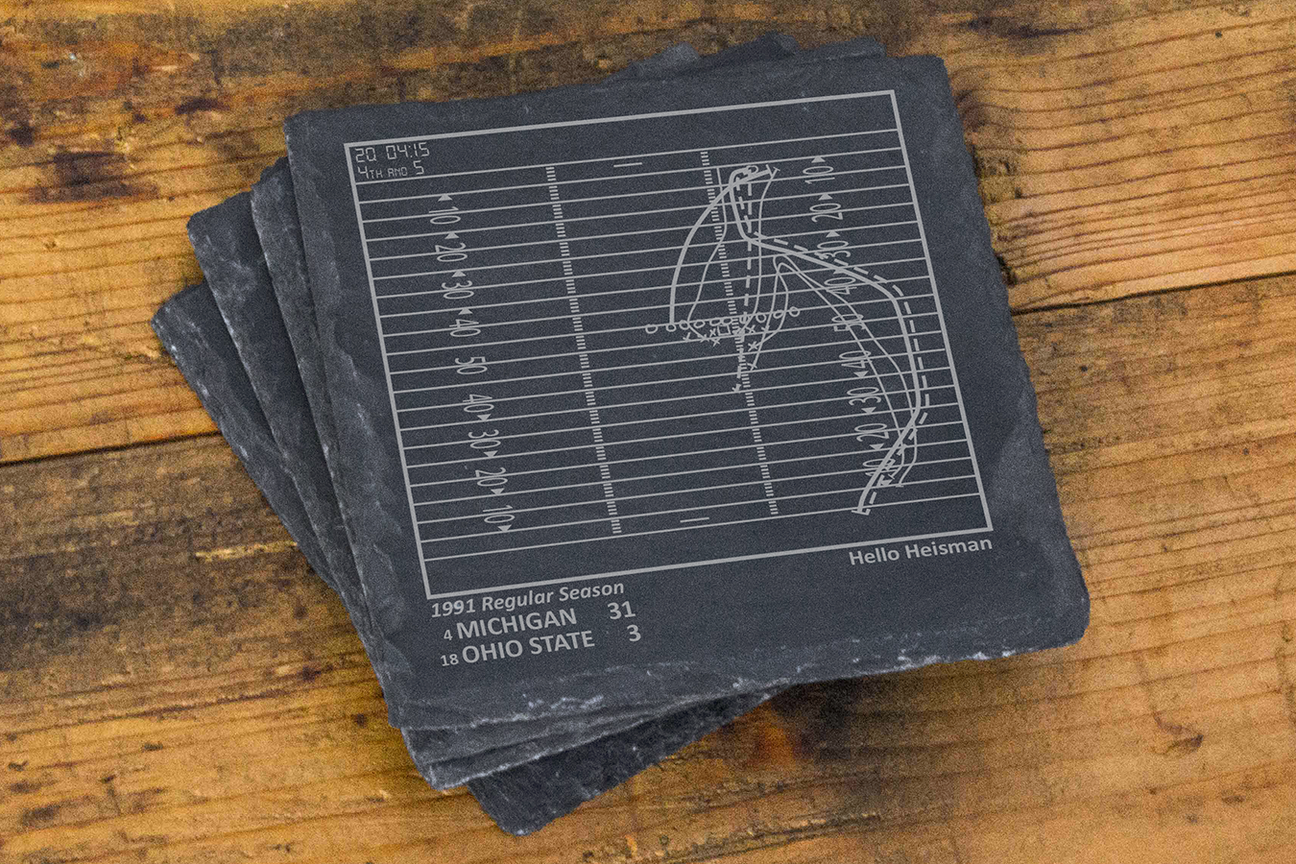 Sometimes you never know where the most unique ideas are going to come from. Case in point was my brother's shelf on a Thursday night in December. There was a gift from a colleague, a set of slate coasters with the scoreboard from some of the greatest moments in Mets history. Nothing elaborate, just memorable. So I went looking on my phone and found all the neat details about PlayBook Products.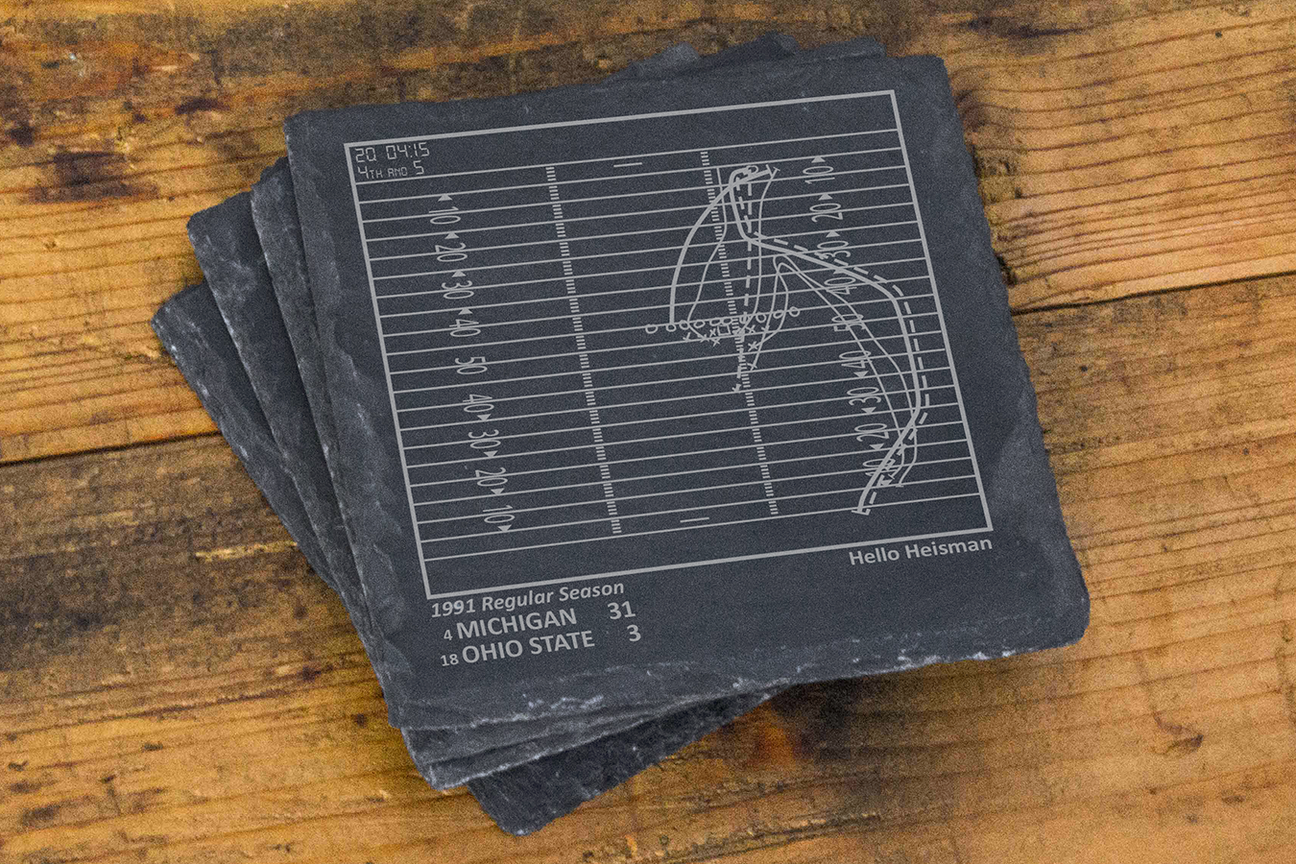 Based in the Bay Area and run out of his house, Austin Lockwood has captured some of the most iconic moments in college and professional sports in a way few others have; unique diagrams of some of the biggest plays in sports history with an offering, from slate coasters to phone cases to coffee mugs, that has both a practical and a wow factor for fans.
We tracked Austin down while he was packing more holiday mailings, and learned more about the company, his goals and why he doesn't need any official marks and licenses to do what he does.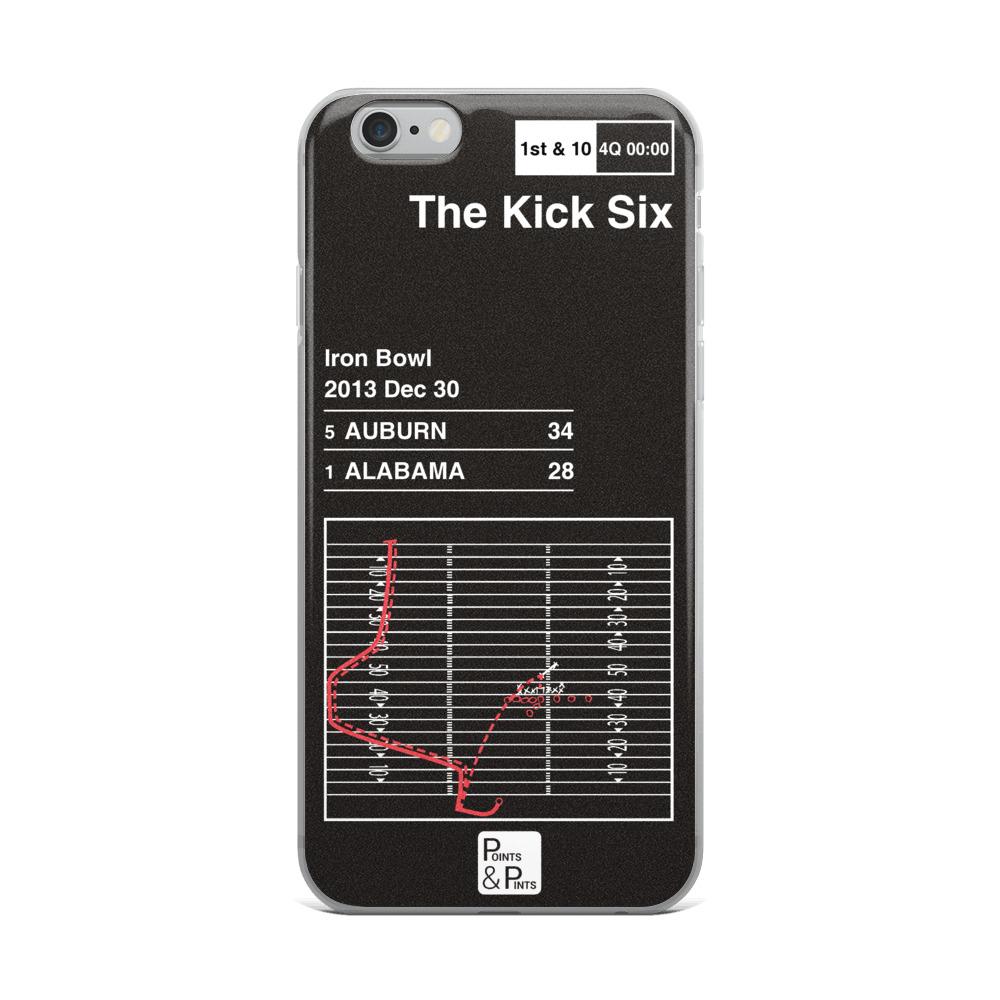 Where did the original idea come from?
It all started as a birthday gift for my brother. He's a huge Manchester United fan, and so I posted on a fan forum asking for advice on their greatest moments.  Then I drew up the plays from old videos, laser etched a set of slate I had, and gave him the gift at a sports bar.  He loved them so much I made a set for my grandfather-in-law, a set for a good friend, and before I knew it, the idea grew into a company.
How do you select the plays?
It's important to us to find great moments in a team's history and to really span the history of each team – finding great plays from different athletes and different eras. Sometimes a team will have so many great moments that we'll make multiple product types to showcase the full history. My team usually researches histories online through a mix of articles, team histories, Wikipedia pages, YouTube compilations, and top ten lists. If I have trouble narrowing it down — and I often do — then I post on fan forums to have them weigh in on which moments are most meaningful to them.
Is there a set number of designs you try and do each year, month?
People have connections with so many teams and so many different moments, and we really want to be able to cover any sports moment that is meaningful to them. For historical plays, we aim to put out a few new teams each week. For major sports events and championships, we get those posted to our products within 24 hrs of the actual event.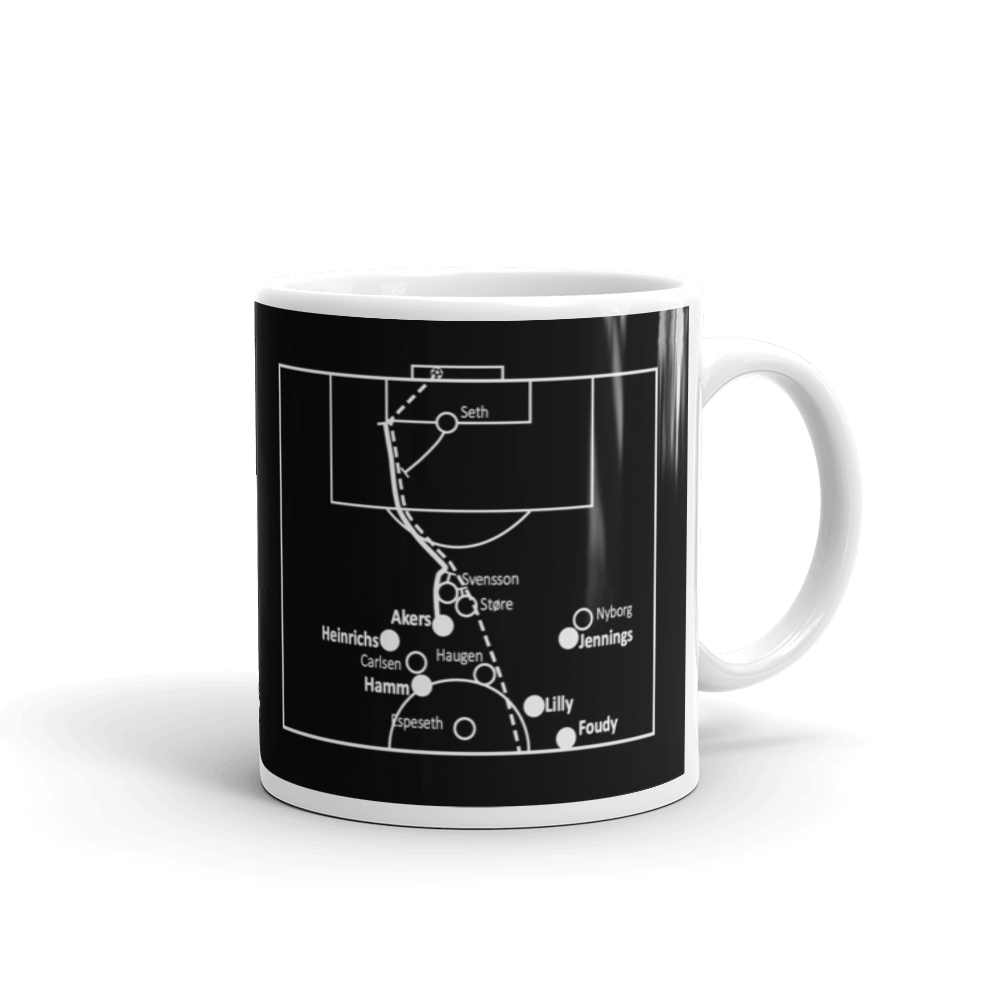 What has been the biggest seller and biggest surprise?
Historically it's been Notre Dame, which makes my alumna wife very pleased.  I initially drew up the set as a Christmas gift that first year for her grandfather.  In 2019, we saw a huge upswing for Virginia's basketball championship, but the Washington Nationals are hot on its heels with the recent World Series win.
Why slate coasters? How did you come up with that as a choice?
I wanted a material as timeless as the plays and stone was an obvious choice. I also needed a product that could showcase a collection, capturing a range of moment's in a team's history, and letting that true fan relive years of glorious moments. I settled on slate coasters, and expanded from there to posters, mugs, baby onesies, bags, and more products that help people share and express their love for their team.
You are able to grow the business without licensee involvement, have teams and league been receptive to the work?
I've sold directly to a number of pro teams and colleges and they've loved our products.  As just a few examples, the Chicago Bulls bought coasters as bizdev giveaways, the Detroit Pistons' new boutique store stocked mugs and coasters for the holidays, and Oregon bought products for its coaching staff.
Have you had any surprise requests from athletes or even owners who have seen the work over the years?
I know that athletes, owners, and coaches have received these as gifts, but I'm not sure if any have purchased directly.  The gift-givers have frequently come back to me with how overwhelmed the recipients have been; I've also been told there's a set of slate coasters on a USWNT player's coffee table.  We regularly get customization requests for athletes who will be receiving our products.
What's the most unique request you have gotten?
I often receive requests for dedicated sets to husbands or fathers who played on the teams I've diagrammed.  They're always very touching and heartfelt.  That said, the most unique non-sports request was a couple's first dance step pattern from their wedding.
How valuable has the social engagement been?
We have barely tapped into social engagement, and it's a key priority for later this year.  We do see a lot of love from our customers and retail partners on social media, and we love hearing about that unboxing moment when the person gets the gift and really loves the product.  We've heard about lots of teary-eyed moments over gifts when a play means something special to the recipient.  Occasionally we'll get a huge spike in team sales that we'll end up tracking to social engagement — for instance, a fan post on a Marquette forum in mid-November made it one of our top-selling holiday SKUs.
Where do you want to take the business in the next few years? is it possible to take the concept beyond sports into, say entertainment?
Honestly, the next few years of company development are already mapped out for us, and we'll keep building the brand around these moments in sports that are truly personal to fans.  There's still so much tech to build and room to grow.  It was a concerted decision early on to build this company — and use our unique tech and flexible manufacturing backbone –– towards a dedicated sports brand, which has been reinforced by the immensely compelling customer response.
By https://ift.tt/30n0N31
via Sports Marketing & PR Roundup http://joefavorito.com
January 14, 2020 at 08:24PM